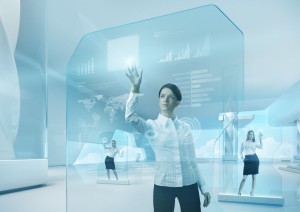 Business leaders are always seeking to better understand their customers, in order to come up with a competitive advantage. Now, they have more tools available to collect the data and create the analytics needed to achieve this.
At first, your business staff may have depended on website data to try and learn about your customers. Now, more (and better) data may be sourced from consumers' use of mobile devices. The type of devices used — smartphones, tablets and laptops — has changed the way consumers interact with the market, which in turn has changed the world of customer data. The connectivity created by use of our Internet-enabled devices, called the Internet of Things or IoT, in enabling exciting new developments for savvy business leaders!
How have a few companies used these new devices and the Internet of Things to help them satisfy their customers? Below are three great examples.
Burberry's flagship store in the UK (Regent Street) was developed with IoT in mind. Their clothing is RFID-tagged to introduce content. As you select clothing, tech enabled devices 'suggest' additional styles to customers based on preferences. The goal is to create a specific shopping experience. For instance, mirrors can turn instantly into screens displaying runway footage and video content, or even live-streaming events in the store.
Another example: Ocado, a UK online grocery store has a highly automated warehouse. Orders placed online are sent to warehouses managed by IoT structure. Over 800 delivery vans have been set up with IoT, so they can optimize delivery schedules for fuel, location, speed, and food temperatures (frozen, refrigerated, ambient).
Nebraska Crossing Outlet is a shopping mall that relies on iBeacons to trigger information sharing based on customers walking nearby. The idea is to gather sensory information based on customer behavior, and interact with the people at the mall.
Convinced? Whether or not your organization is ready to make use of the Internet of Things, you can still stay ahead of the curve by adopting systems that make better use of data. You can increase data collections, and find the expertise you need to create analytics.
If we can help by providing IT expertise and support to upgrade your systems please let us know! We invite you to get in touch with us to learn more.