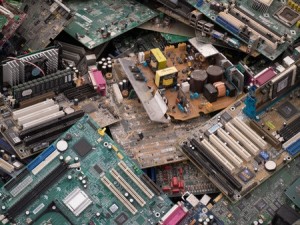 When you're ready to update your tech systems, it's easy to think about the new and forget about the old. But discarded and out of date electronics don't just fade away – they can end up in landfills. Those cast off devices can leach nasty toxic metals into the groundwater when they degrade. In addition, improperly disposed of tech can also leave you vulnerable to cyber attacks, data loss and theft.
How? Hackers have been known to steal hard drives out of the garbage to get access to sensitive data. You can avoid exposure to these crimes if you dispose of and recycle your tech properly. That's why today, we're sharing a guide to some of the most important things you'll want to do when you're getting rid of outdated tech equipment.
1) Don't dump old tech equipment in the garbage. Not only is it not safe, but there are now laws that put standards on disposal. Be sure to check out federal and state laws. Some states, such as New York, are passing measures that require both residents and organizations to properly recycle electronic equipment to keep it out of landfills. Not sure about the laws in your area? An outsourced IT consultant can help you figure out the requirements in your area.
2) Even in places where you aren't required to recycle electronics by the local laws, be sure to properly dispose of your hardware – including computer hard drives, servers, monitors, and more -- with reputable waste removal groups. They can help you know how to wipe your hard drive completely to protect your data and privacy. It's good for the environment, and good for your bottom line.
3) Encourage your employees to take their mobile devices to a reputable recycler when they dispose of their tech, or provide a collection service for them. As more employers allow their staff to use personal laptops, tablets and smartphones to work on projects away from the office, it's worth the reminder that all organizations should have a good policy in place to protect data. Always encourage your employees to be savvy about wiping sensitive data.
4) Want more information about how to recycle old electronics, such as printer cartridges, computer monitors, and batteries? Check out this great article recently published at CIO.com, entitled 5 Painless Ways to Recycle Old Electronics, for a list of recyclers you can contact. The article also has advice on how to resell your devices, if you want to earn back a few bucks and have the item reused (another great way to keep your old electronics out of landfills).