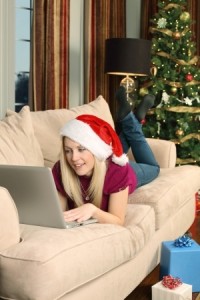 This month, many of us will be shopping for holiday gifts online. That's why now is a great time to brush up on the best tech practices to help you protect your identity when you're banking, shopping, or conducting sensitive business online. Keep in mind, you can also use these tips all year long to protect your privacy and security!
Look for the https:// at the beginning of the websites you visit. That extra letter 's' is there to let you know that you're visiting a site that uses SSL (Secure Sockets Layer) security. Never input credit card information, or any other sensitive personal data, to a site that starts in any other way.
 Don't click email links to redirect to shopping websites. Scammers often send emails with phony links that can download malware, or direct you to a phony site.
Take care to shop from a secure online network. Whether you're at home or in the office, only use the network and Wi-Fi if you're up to date on password protection measures, and anti-virus and encryption security software.
Use the latest Internet browser version to help protect you from getting trapped by hackers and identity thieves. The latest versions of Firefox, Internet Explorer, Chrome and Safari are designed to help steer you away from websites with risky bugs.
Monitor your accounts – email, banking and otherwise – and take immediate action if you notice anything fishy. Better safe than sorry! After an online transaction you'll want to keep a closer eye than usual, and report any strange activity immediately.